Custom Rail Car Fabrication
The Knight Sky (2012)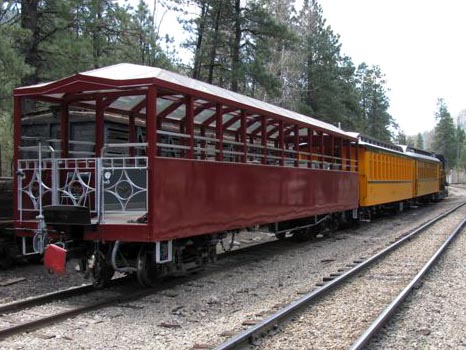 Knight Sky is a recent addition to the Durango & Silverton Narrow Gauge Railroad. The open-air observation car is now in service after almost a year's construction. by Melcher Brothers Inc.
The Knight Sky, a 50-foot open observation car with a glass roof and fully covered observation ends has plush airplane style seats in a two and one configuration. Now In premium service, the car is considered one of the finest cars on the railroad. The vestibules are separated from the interior by frosted glass doors and windows with mahogany trim. Less trucks, the car weighs in at 29,000 pounds and seats 30. Melcher used a rubber flooring material to smooth the ride.
Unique to the Knight Sky is Timken® Roller Bearing trucks that were completely fabricated by Melcher Bros. These are the first Timken® Roller Bearing trucks on the Durango & Silverton. They drastically simplify maintenance and reduce rolling friction of the car compared to the historic journal-box trucks used on other cars on the narrow gauge line.

Constructing a narrow-gauge rail car is not something that is undertaken every day. Jim and Bill Melcher did the design with the assistance of Clarence Anderson of Telluride Iron Works, Durango. The car bears some resemblance to "Silver Vista" another observation car built by Melcher several years ago. Some coupler castings for Knight Sky came from historic railcars thanks to the Colorado Railroad Museum, Golden, Colorado.

Knight Sky is brilliant red and and sports silver trim and raised brushed aluminum lettering with a black undercarriage. The railcar's construction was contracted by Soaring Treetop Adventures owners Denny and Judy Beggrow. Part of its service is to transport guest in style to the Tall Timbers lodge in the Animas Canyon.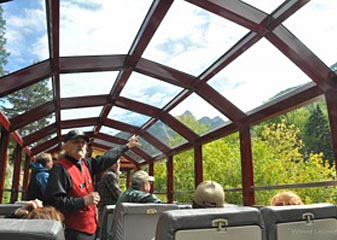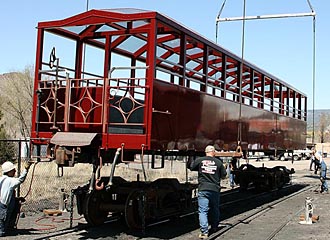 Other Cars & Rail Projects
Use the tabbed pages below to see some other Melcher Brothers rail projects
Silver Vista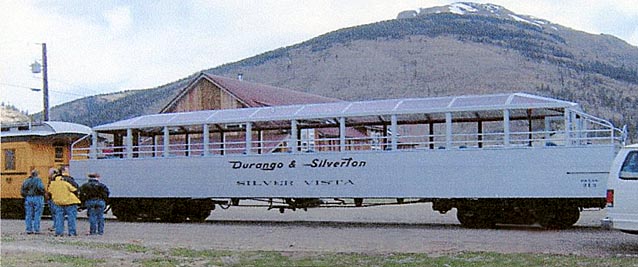 The Silver Vista, like the new Knight Sky, is a 50-foot open observation car with glass roof but open vesitbules. Melcher Bros did the car body fabrication. The Silver Vista is a favorite car on the Durango & Silverton Narrow Gauge Railroad. The popularity of this car led to creation of the Knight Sky.
Drivers for Old #18
Melcher Brothers Inc., is one of the few machine shops in the Inter-mountain West capable of machining steam engine driver wheels. When the Rio Grande Scenic Railroad needed refurbished wheels for their historic #18 steam engine, naturally they called Melcher for the job.
Heavy Custom Flat Car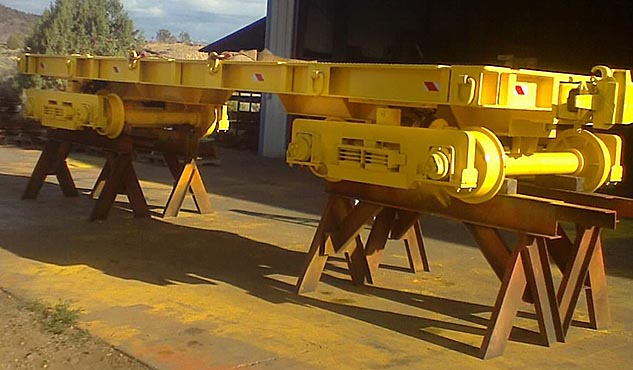 This is a custom 80 ton capacity flat car with brake system for hauling specialized equipment on an industrial RR.
Passenger Car Trucks

Building the Knight Rider also required creating a special set of period passenger car trucks. These were designed as typical steam era trucks for 50' cars, but one major difference. We replaced the maintenanc- heavy journal box bearings with Timken® Roller Bearing typical of today's rolling stock. They both improved the ride and vastly reduced maintenance. Since these were one-off trucks, we build them entirely from steel stock without use of bolster castings. Cost could be reduced by use of castings. Melcher Brothers is willing to quote similar trucks for heritage railroad equipment.

Quick Links

As a custom job shop, we survive on our product quality and our ability to customize products to fully meet the customer's needs.
At Melcher you can work with the designers to ensure that the end product is just what you need.

Mining is worldwide. Melcher Bros is proud to supply custom mining equipment to various countries as demand warrants. Some past custom equipment orders are for gold mining operations in South America.