MBI Capabilities
Melcher Brothers Inc. is a single source custom steel fabrication and manufacturing facility in Durango, Colorado. We have a full service machine and welding shop capable of rail-car size projects. Our focus is in serving the mining industry but also with considerable experience and capabilities in heritage railroad and general construction fabrication.
LOCATION Melcher Brothers Inc., is located at the Animas Air Park at 170 S. Skylane Dr., #4, Durango, CO 81303. Click for a map of our location.
Steel Fabrication
Our 8,000 square feet plant includes two traveling overhead cranes; one in the machine shop and one in the welding bay. We operate both a machine shop bay and weldment shop. Most recently we have added a 60" burn table and CNC plasma Table with one inch capacity. Jobs that were preveiously done by cutting and drilling are now expedited with the CNC plasma table.
We are setup for beam work, custom manufacturing, shop fabrications and erection. We also have a large plate punch.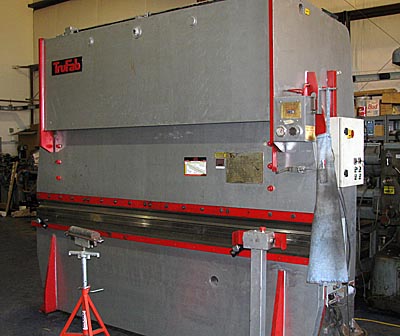 The latest addition to our fabrication shop is this TruFab Press Brake. The hydraulic brake is capable of 135 ton bending capacity and can handle work up to 10 feet (OA).
Machine Shop
Melcher Broths has experienced machinists and millwrights skilled in production of a wide range of components, machines and structures. We have large capacity lathes, horizontal and vertical milling machines, boring equipment, presses and grinding equipment.


Machining Capacity
Lathes: 40" diameter, by 84" lenght - capable of machine railroad wheel and axle sets
Drill Presses: Large capacity radial drill
Hydraulic Presses: Up to 300 ton capacity (68" window)
Boring Mill
Climax Line Boring equipment with 12" diameter and automatic bore build-up welder



Mills: Large capacity Vertical and Horizontal mills
Grinders, Band Saws, etc.
Welding Shop
Our experienced welders offer extensive experience with steel and other metals. Complex structural and ornamental welding tasks are easily handled on both new fabrications, refurbishments and repairs.


Welding Capability
We have Lincoln 400 and 600 amp welding equipment
Miller & Lincoln MIG Welder
Automatic Buildup Welder - Subarc
(2" to 10")
Climax Line Bore equipment
Buffalo #1.5 Rolling Machine
Miller TIG Weld welder to TIG welding
Can handle steel, stainless steel, aluminum, brass, cast iron, etc.
Design & Engineering Drawings
Melcher Brothers staff includes skilled Autocad designers for rapid project design including creation of detailed drawings.
We have a well established reputation for innovative and cost effective solutions for your machining and fabrication needs. We also offer extensive services for historic machine reproductions. These may be exact reproductions or modern versions of historic machines.

Quick Links

As a custom job shop, we survive on our product quality and our ability to customize products to fully meet the customer's needs.
At Melcher you can work with the designers to ensure that the end product is just what you need.

Mining is worldwide. Melcher Bros is proud to supply custom mining equipment to various countries as demand warrants. Some past custom equipment orders are for gold mining operations in South America.